DOORS
FOLDING DOORS
Spectacular doors which opens by folding back in sections. Also known as accordion doors, folding doors are designed to provide a pleasing visual appearance, with a simple pull-and-latch operation. The maximum width can be 18' or 6 panels.
TILT&GLIDE DOORS
Provide a beautiful and sophisticated look for a space where swing doors are not an option.
Having the option to get up to full 10' opening in glide function, imagine the space feeling they can add to any room. The sash can have up to 12 locking points, pushing it against the frame all around for the best seal and security.
FRENCH DOORS
French door can add a stylish look to any home, popular choice among people who are looking for ways to bring more natural light into their homes.
Usually used as patio doors, they help draw attention to a beautiful flower garden or an immaculately landscaped lawn. 5 point multi-lock is a standard feature, securing your house properly.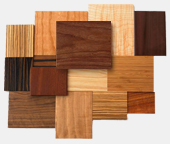 All our doors are available in white or custom film colour, with more than 20 colours to choose from very realistic wood finishing to modern colours. In order to provide high quality products we do not supply painted products because they are easy to scratch and in time paint will fade.
The excellent thermal insulation of the - made in Germany - uPVC steel reinforced REHAU profiles provides a pleasant climate inside your home.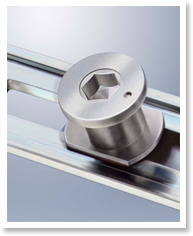 As standard option, there are 4 security locking cams with mushroom head plus the deadbolt, providing high security in conjunction with special strikers. When handle is lifted then the locks engage pushing to door against the frame and ensures weather tightness.
Heavy duty hinges are standard for French doors holding 110kg per door, with the option to upgrade them up to 150kg weight per door in case triple layer insulating glass is used.
The RotoSil silvery mat surface finishing of the tie bar does not only look elegant but it also has corrosion protection perfect for West Coast salty air.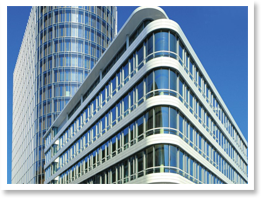 Low-e glass comes standard on all our products but not all low-e coatings are created equal. For example the available state of the art Planithern 4 Seasons glass has a special coating that is applied to one side of the glass to reflect heat from its source in the summer, keep heat inside in the winter and reduce harmful UV rays. It is the state of the art in glass manufacturing.
For better noise insulation we have laminated glass available, using it on the outside layer definitely it will make a difference.
A number of obscure glass options will assure your privacy in areas where you need it, meeting your design expectations as well.
The perfect match for EUROPEAN doors are the dual operation pleated shades. Made in Germany by MHZ Gmbh. they can moved from top down or bottom up, letting you position the shade anywhere you like for easily control lighting and privacy. Pleated shades are very durable, and are able to resist sunlight without fading. In addition, they are available in an extensive selection of fabrics and colours.
Venetian aluminum blinds are available as a less expensive option, with coloured aluminum slats in contemporary textures and styles (solid or perforated).